Upcoming and Current Litters
At Kaos Farm Minature Goldendoodles, we breed for all three characteristics: temperament, health, and looks. We don't compromise one over the other, but carefully select our parent dogs so the puppy you get is gorgeous and healthy.
We do have litters coming. We are taking Applications and Deposits on puppies going home Fall 2019, Winter 2019/2020, Spring/Summer 2020
Kali and Thomas's Litter
Kali and Thomas had 6 precious puppies! This is Sweet Kali's retirement litter but not to worry she has a permanent spot here at Kaos right in the middle of Christiana's bed. During the day she will continue doing what she loves, being the Grandma to all the new puppies!
All od Kali's puppies have excited Family's
Kali's farewell litter
2 Girls
Pink - Finale
Purple - Encore
4 Boys
Blue - Sayonora
Red - Au revior
Green - Adios
Yellow - Aloha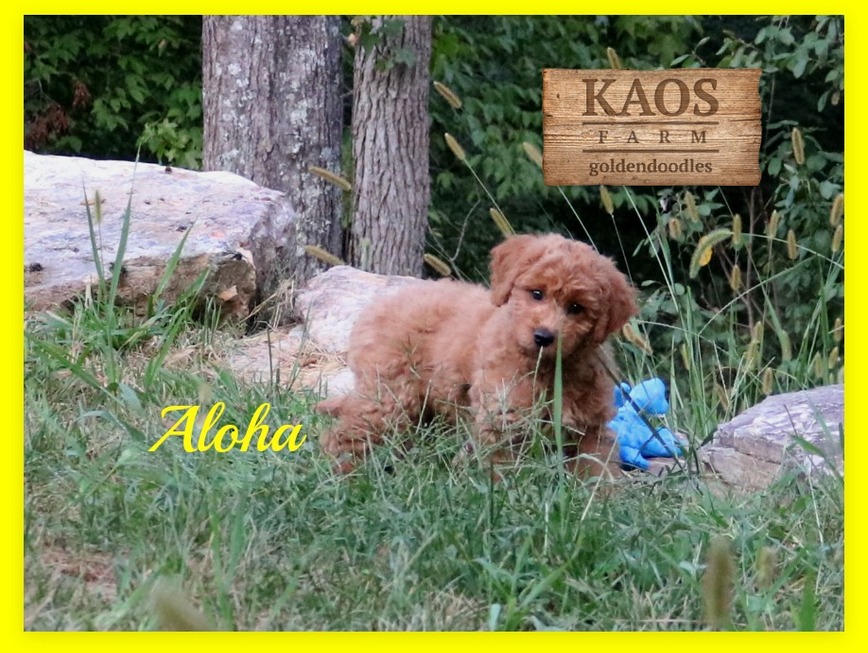 Jazzy and Ron's Litter
Jazzy and Ron have 5 precious puppies Born June 9th, they are ready for their forever family's early Aug's 2019
Named after the T.V. show Saved by the bell
All od JAzzy's Puppies have excited family's
3 Girls
Pink - Kelly
Purple - Lisa
Teal - Jessie
2 Boys
Orange - Zack
Yellow - Screech