Meet Our Moms
Our parents are carefully paired according to their temperament and health clearance. All of our parents are health tested through OFA to meet the GANA Blue Ribbin Requirements which include HIPS, ELBOWS, CARDIAC, PATELLAS and EYES. Also DNA tested for DM, Ichthyosis, NEWS, GR-PRA1, GR-PRA2, PRA-PRCD, VWD1, VWD2 and Coat.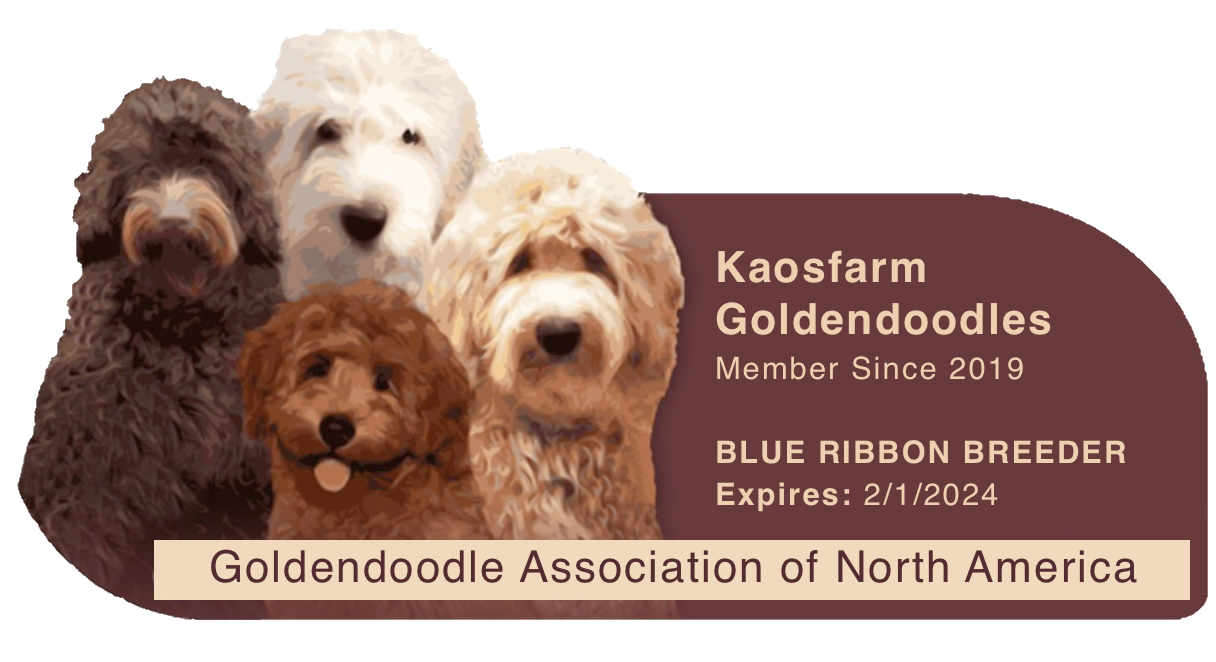 Lindi *Retired*
Lindi is our 40-lb Red moyen poodle. Lindi is very loyal and loves her people! She is very playful and like her poodle ancestors she loves the water!
Bindi *Retired*
Bindi is our 34-lb cream moyen poodle! Bindi can be found carrying around and playing with a ball! She prefers to be a constant sidekick!
Heidi- Retired
Heidi is a mini 24-lb F1. Heidi is full sisters with Kali and is out of our Sadie and Fred! She is a sweetheart, easy-going, loves toys and people, is always willing to please and wants to be your daily sidekick! She is enjoying life with her family in Greensboro NC and her 2 Cat Buddies!
Jodianne- Retired
Jodianne is our tiny girl! She is a 13-lb toy goldendoodle cuddle bug! She has a big personality in that little body of hers! You can always find Jodianne carrying a toy around or being carried around herself!
Elsie - Retired
Elsie is a 25-lb mini F1 goldendoodle out of our Steffi and Fred. She is extremely outgoing and always ready to meet new people; she loves life and is ready for any adventure. She has a gorgeous cream-colored thick wavy coat.
Mya *Retired*
Mya is a 24lb cream Mini goldendoodle! She was born here with us from our Pippi and Thomas! We are excited to have this sweet girl as one of our moms!!
Phoebe- Retired
Phoebe!! Phoebe is a 15lb Petite Goldendoodle! She is from Our Kali girl. Phoebe is a Sweetheart and Loves to Cuddle:)
Georgia- Retired
Georgia is a 24lb mulitgen Mini goldendoodle, She has awesome Red Wavy hair:) Georgia is very intuned to her people and is happy to just be with them! We are excited to have Sweet Georgia as a Mom!
Tari *Retired*
Tari! Tari is an 11lb Petite/Toy goldendoodle. She is a Flat coat just like our Sylivia:) We are very excited about Tari's puppies!
Kali- Retired
Kali - She is a whopping 19-lb snuggle bug. She is a light red mini F1 goldendoodle out of our Sadie and Fred. Kali is a happy girl that loves to play fetch. Her favorite rainy-day treat is her kong stuffed with peanut butter. If you are looking for Kali you can always find her on somebody's lap!
Ali - Retired
Ali - Our fun-loving 37-lb Multi-Generational Goldendoodle! Ali never meets a stranger and loves to make new friends! Ali and Frank love to Swim and play fetch together! Ali is just happy! Ali is Retired 9/2018 She loved having puppies and was a great mom! She is now excited about sleeping late:) She is Loving life with her Family in Greensboro NC, She still comes to Visit!
Harper
Harper is a Mulitgen out of Our Kali and Ron.
Jazzy *Retired*
Jazzy is a lovely petite multigenerational goldendoodle, weighing in at a whopping 13 pounds!
Julie
Julie is 22 pound miniature multigenerational goldendoodle. Julie is the professional snuggle bug in the house!
Remy *Retired*
Remy is a gorgeous petite multigenerational goldendoodle, weiging in at 15 pounds!
Kya-Retired
Kya is a 24lb Mini F1. She is from our Steffi and Fred and is a full sister with Elsie. Kya is a fun, playful, always Happy girl! She is Loving life as a side Kick to a 3 year old little Girl nin her Retired life:)!
Clarice
Clarice is an adorable multi generational goldendoodle, she is 25 punds and 15 inches tall.
Clarice lives with and is best friends with 2 little girls!!
Karli- Retired
Karli is our Sweet Curly light Red Toy/Petite Goldendoodle. She is a whopping 12lbs and is as sweet as they come!! Karli is Retired as of 11/19 She is enjoying life with her Family!
Sylvia *Retired*
Meet our little Miss Sylvia!!! She is a whole 20 pounds of fun! Sylvia is a miniature multi generational Goldendoodle, yep you heard right, both of her parents are Goldendoodles. She is what you call a "Flat Coat", not your classic look however with DNA testing we know that breeding her to our Thomas all their puppies will be that very pretty wavy coat similar to an F 1. So, no, none of her puppies will look like her but will be absolutely adorable! Sylvia is just a doll! The best word to describe Sylvia is 'happy character"! She is such a happy girl who just loves life. She loves her toys and she also likes to wear clothes...she prances around so proud showing them off. We are very excited about her puppies!!
Skylar
Skylar is Our AKC Golden, she is a lover and best buddies with our Son/Brother
Bree
Bree is our English Cream F1 Goldendoodle. She is a Love with a laid back personalty!
Olive
Olive is a 14lb Mulitgen From Jodianne and Ron. Olive has a big heart! she enjoys life in Greensboro NC with a Sweet family with 2 girls, She is aways ready to Play, take a walk or cuddle up for a good movie/book! she
Florence
Sweet Flo (Florence) is an 18 pound multi-gen out of our sweet Ali girl! Flo was born during hurricane Florence. She lives with an amazing guardian family who call her Blue after their college mascot of Butler University.
She is sweet, cuddly and playful!
Tally
Tally is a multigenerational goldendoodle weighingin at 27 pounds! Tally lives with her gaurdian family in Summerfield NC, She is happiest when surrounded by her 4 human siblings and revolvingdoor of friends. She loves to be the center of attention and the life of the party.
Kori - Retired
Kori is a 20 pound minature multigenerational goldendoodle.
Marta
Marta is a tall 18 lb multigenerational goldendoodle. She lives with 4 sweet girls who have nick named her "Sandy" after the dog on the movie "Annie".